A Ku Klux Klan gathering both recalled North Carolina's racially troubled history and demonstrated the strength and diversity of the state's civil rights movement today.
Originally published in The American Prospect.

IN THE END, SATURDAY'S "Victory Klavalkade"—a celebration of Donald Trump's presidency by the North Carolina-based Loyal White Knights of the Ku Klux Klan—turned out to be a fleeting sideshow. Outnumbered by protesters and journalists, the Klansmen abandoned their plans to parade through Pelham, a rural community along the state's northern border where the white supremacist group has its headquarters. Instead, they ended up exulting from the safety of their cars in the old cotton-mill town of Roxboro, 37 miles away. A motorcade of about 30 vehicles barreled through the streets, sporting Confederate flags, as their drivers shouted "white power" to no one in particular.
"It is about the size of a funeral procession," tweeted Burlington Times-News reporter Natalie Janicello. Missing from the parade was a local Klan leader who had been arrested for allegedly stabbing a fellow member the night before.
But Saturday was still a big day in North Carolina, thanks to counter-protests across the state. In Pelham, anti-Klan protesters chanted such slogans as "No Trump, no KKK, no fascist USA." In Charlotte, they lay flowers at a Holocaust memorial and at statues of Martin Luther King Jr. and Mahatma Gandhi. In Salisbury, they sang "Lean on Me" before marching through the historic downtown. They gathered in Greensboro near the site where Klansmen and Nazis killed five protesters in 1979. They held an advocacy fair in Asheville, and a prayer service in Reidsville, a textile-and-tobacco town that has seen its own share of Klan activity.
The largest of the gatherings was in Raleigh, where about 1,000 people, many of them young, listened to calls for a unified response to attacks on racial and religious minorities, which have spiked since Trump's candidacy and election. "White supremacy is not just the KKK," said Saba Taj, an organizer with Durham Artists Movement, a collective that fuses art and activism. "On November 8, our state, our country, our system elected white supremacy. They're not just wearing white hoods. They're wearing suits and badges and setting up in our government."
The day of protests throughout North Carolina—which spread to other places, too, including Danville, Virginia, and Albany, New York—continued a wave of anti-Trump demonstrations nationwide since Election Day. Americans have taken to the streets to protest Trump's race-baiting rhetoric, his promises to register Muslims and deport undocumented immigrants en masse, and the recent intimidation of women and minorities committed in his name. Activists have shut down part of New York's Fifth Avenue and blocked traffic in Miami, Austin, and Pittsburgh. In Los Angeles they set ablaze a large effigy of Trump's head. The Jewish group IfNotNow marched on Trump's transition headquarters in Washington to demand he fire his chief strategist, Steve Bannon, former CEO of the Breitbart News Network, which has offered a platform for incendiary white nationalism.
There were other protests in North Carolina before this weekend. But the Klan's choice of this state to celebrate Trump's victory touched a particularly deep nerve, especially among those familiar with the state's history. Not only is white-supremacist terror embedded in the state's political DNA; it's also a recent enough phenomenon to be remembered by many North Carolinians alive today.
DURING THE LATE 19TH CENTURY—when Democrats governed North Carolina to the benefit of bankers and railroad barons—a political alliance of African Americans and rural and working-class whites came together over shared economic grievances. The Fusionists, as they were called, briefly took over state government in 1894. They boosted school spending, shifted the tax burden from small farmers to railroads, and made it easier for the disenfranchised of both races to vote. They also allowed cities to choose their own leaders, which gave rise to a Fusion government in the majority-black port city of Wilmington.
These biracial political victories fueled a white-supremacist backlash. The Fusionists were crushed in 1898 by what Duke University historian Tim Tyson calls "a propaganda effort that would incite white citizens into a furor that led to electoral fraud and mass murder." Leading the campaign was newspaper publisher Josephus Daniels, whose Raleigh News and Observer described "Negro rule" as "the vampire that hovers over North Carolina." In Wilmington, the local government was seized by force, the only coup d'état on U.S. soil. "We will never surrender to a ragged raffle of Negroes," former congressman Alfred Moore Waddell said in Wilmington, "even if we have to choke the Cape Fear River with carcasses."
Democrats, back in power, rescinded black voting rights shortly after the coup through literacy tests that exempted whites, along with poll taxes. It marked the beginning of the Jim Crow era.
Wilmington was on Bryan Proffitt's mind when he spoke at Saturday's anti-Klan event in Raleigh. Proffitt is a public high-school teacher and a leader of Organize 2020, a progressive caucus of the North Carolina Association of Educators. "This is not the first time we've seen this, y'all," he said in a rousing speech. He drew the parallels between then and now: the stoking of white voters' racial fears, the complicity of the news media, the intimidation and violence directed at minorities, the stripping of voting rights. (Since 2013, North Carolina Republicans have aggressively tried to depress minority and youth voter turnout.)
"It's the same moment," Proffitt said, promising that teachers will be on the front lines of the resistance. "We're not going back into our homes. We are going to teach against the new Confederacy. We're going to vote against the new Confederacy. We're going to build an organization that can fight the new Confederacy in the streets and the courts."
One doesn't have to reach back a century to feel the legacy of white terror here. In the 1960s, as North Carolina's civil-rights activists were making inroads without the drama of places like Mississippi, the state's KKK grew to 10,000 members. That was more than in the other Southern states combined. "Almost every night of the year in 1964, 1965, 1966, you'd see a Klan rally somewhere in the state of North Carolina," sociologist David Cunningham, author of Klansville, U.S.A., said during a 2013 radio interview. "It was sort of a skewed county fair environment" where locals could purchase refreshments. "They could buy raffle tickets. They could buy Klan souvenirs. They could listen to live music." (The titles included "Move Them Niggers North.") The nights would end with the burning of a 60- or 70-foot-tall cross—"compelling theater," Cunningham said, for "workers who felt their way of life was dependent on the maintenance of segregation."
The moment in white-supremacist history that's most seared into North Carolina minds, though, was the 1979 murder of five Communist Workers Party activists during an anti-Klan protest march in Greensboro. The massacre, at the hands of Klansmen and Nazis, happened in broad daylight and with television cameras (but almost no police) present. Still, the defendants were acquitted by two all-white juries, one state and one federal.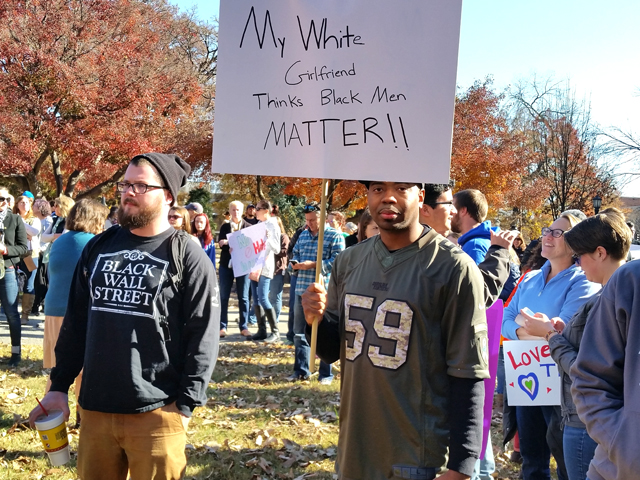 In Greensboro Saturday, about 100 people marched along the planned 1979 parade route. Massacre survivors and their relatives also came to the larger Raleigh event. Sandi Chapman Osterkatz, the daughter of two survivors, spoke to the Raleigh crowd and described this as an "inflection point in history" during which racism has become more visible—from the 2012 shooting death of Trayvon Martin to last month's election of Donald Trump. With many Greensboro-era political veterans still active, she said, "this is easier than the last time. We do not have to start new organizations from scratch. We have experienced leadership. We have historical lessons that we can and must learn from."
If the Raleigh gathering was any indication, tomorrow's activists will put a 21st-century spin on those historic lessons. They will be strikingly diverse. They will champion populations that were less visible in the past, including Muslims and LGBTQ people. They will speak multiple languages. And they will embrace their Southernness.
"Folks stop and ask me where I'm from," said Taj, the Durham artist. "Some of y'all know what I mean by that. And guess what, y'all? I am born and raised in North Carolina, and for some reason I have not left. And yes, I am a Southerner. This is my state. And I am queer. And I am a Muslim. And I am sick and tired, y'all, of narrow minds that can't wrap themselves around all of that."